In Southern California, Palm Springs peaked at 122F (50C) while the mercury hit 111F (44C) in Lancaster and 117F (47C) in Baker. The strip of gas stations and restaurants between Los Angeles and Las Vegas is known by travelers for a giant thermometer that often notes temperatures in the triple digits.
National Weather Service meteorologists John Dumas said cooling ocean breezes haven't been traveling far enough inland to fan the region's overheated valleys and deserts. In Northern California, record-breaking temperatures were recorded in Sacramento, where the high was 107F (42C); Marysville reached 109F (43F); and Stockton saw 106F (41C).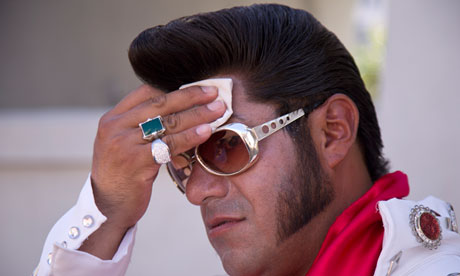 Cooling stations were set up to shelter the homeless and elderly people who cannot afford to run their air conditioners. In Phoenix, Joe Arpaio, the famously hard-nosed sheriff who runs a tent jail, planned to distribute ice cream and cold towels to inmates this weekend. Officials said personnel were added to the Border Patrol's search-and-rescue unit, because of the danger to people trying to slip across the Mexican border. At least seven people have been found dead in the last week in
Arizona
after falling victim to the brutal desert heat.